Looking good! Smells really good, too.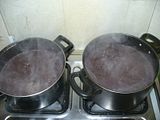 Getting ready for the first round of cooking the pork. I'll add some of the water from this after the first boil to the beans so they soak in some of the flavor. Then I'll let the meat sit for a while, then cook it again.
I called Sandro and he said he'll bring some drinks and be here around 8PM. Caroline called a friend from CELIN and she said her and her friend will show up around then. Sandro should be bringing a friend or two. So it looks like it should be a really good time overall.
More pictures and stuff to come.