Well hello there fine friends.
January 27th was a nice day for a little walk, so Caroline and I went to the Oscar Niemeyer Museum and then walked through Bosque do Papa. People who came to the blog last year have already seen some of these pictures, but I'll post them anyway. Actually right now most of'em are uploading, so I'll just tell you what all we did and then post the pictures.
On the walk there, Caroline was taking a lot of pictures of some pretty nice houses that she enjoyed looking at. We also walked by this old art museum that used to be a little "palace" owned by the family of the founders of Matte-Leão, a big tea company here in Brazil.
After that we walked over to the Museum. Apparently in Curitiba they're having a Cow Parade. All of these artists took the sculpted cows and painted them into whatever they felt like. There are 24 of them spread across the city. I am trying to get a picture of as many of them as I can. Today, I got only two.
After that we went to Bosque do Papa. We picked a lot of little passion fruits here and brought them home for later consumption. I got a nice shot of Caroline with PJP2 (Pope John Paul II). Then a few nice pictures of the little Polish houses that were brought into the park from old Polish colonies set up by immigrants around Curitiba.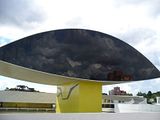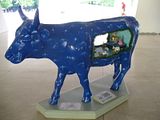 Inside of the blue cow.