Yup, I got out of bed today and decided to make use of my new batteries and give my camera a workout. It's been getting a little pudgy lately so I figured it could use some exercise. I walked out to Bosque do Papa to celebrate Poland's loss in day one of the FIFA World Cup to Ecuador, 2 to 0. For those "not in the know", Bosque do Papa is named for Pope John Paul II but it's actually a place dedicated to the Polish immigrants to Curitiba. It's a really nice place and as I've said before, on clear nights with a full moon I like to head over there and just let my mind drift away. Anyway here are some pictures.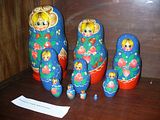 These are those little doll things you see a lot. There are 10 here, made in Poland from the region that includes Krakow (as it says on that little slip of paper). It's also worth noting that after I took these pictures I saw a paper that said "Proibido fotografar" which means... no pictures basically (taking pictures prohibited more accurately).
OMG I'm lost! This place has lots of ways to go through the woods. For those of you wondering, I chose the path less taken.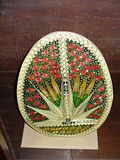 These things are very difficult to explain, so I'm really not gonna try too hard. Basically they take individual chips of wood, paint them, and then somehow make them into this really beautiful piece of work. There is a little store run by these Polish people in the park who make these things and sell them. I might have to hook one up before I leave Curitiba.
I know these pictures are out of order. This is one of the many entrances into the park. I usually go in the backway (hehe) then make my way towards the front (hehe) and then up towards the torso and back down for the climax. Oh damn did I get distracted. Anyway you know what I mean.
This house could be used in that commercial for that fake reality show "Tiny House" as seen in the Geico commercials.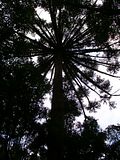 These trees are insane and I plan to find some seeds and bring these to America. They're called Pinheiro trees and as you can see, the only branches they have are at the very top, forming a type of umbrella. I hope they survive the NC weather (which is quite similar to here in Curitiba0>
Another funky house that was built by Polish immigrants. This isn't the original location of the house as it was moved to this place. You can go in and see how these people used to live and everything. I've been in before, but it was kinda crowded today (the park) since it's a weekend and was a nice day and all.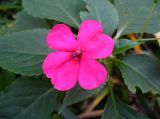 And here's a pretty flower for you all! I hope you enjoy it!
So yes the FIFA World Cup kicked off yesterday. Germany won 4-2 against Costa Rica, Ecuador beat Poland 2-0, my second favorite team Trinidad and Tobago tied 0-0 with Sweden, England (stupid limeys) had to rely on an own-goal from Paraguay to win 1-0, and Argentina beat Ivory Coast 2-1. There are three games per day I'm pretty sure up until the group stages are over. The USA plays Czech Republic on Monday so I might check that out if I feel like it, and Brazil has their first came on Tuesday against Croatia. I should be at a pretty nice sized party for that one so I'll have pictures. Since it's World Cup time, there is more green and yellow in this country than I've ever seen. Flags are everywhere (porches, cars, dogs, cats), balloons and ribbon and stuff, clothes, shirts, everything is Brazil and yellow and green. I'll be wearing a Brazil shirt when I watch the games but at no other time (due to my sports superstitions.)
Okay well that's it, everyone have a great evening.