I spent some time this past weekend at a local NGO (Comunidade Gira-Sol) in a very rundown, drug and gun trafficking neighborhood. We went to a little school that teaches Spanish, English, how to read and write (Portuguese) for adults, ballet, painting, and capoeira. We went with professor Sombra to work with the kids for about two hours. It was definitely fun and when they found out we were American their eyes just lit up. We pulled out a map and showed them where North Carolina was and I told them that North Carolina is about 10,000Km from Curitiba. They were stunned at the distance.
Anyway here are some pictures of that event. These kids live in a very poor neighborhood and themselves are extremely poor. A lot of these kids don't get new clothes, and their houses don't have electricity and some have to use neighborhood water supplies. I definitely enjoyed it and will be going back whenever Sombra goes. The kids were extremely nice and interested in us.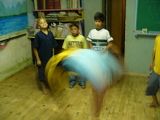 This kid loved this picture, he was all talking about how fast he was moving since the camera couldn't even catch him.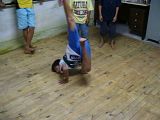 These kids are pretty strong to be 10 years old.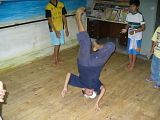 This kid enjoyed doing some breakdancing spinning on his head type stuff.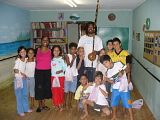 Tiphane and Sombra with the kids.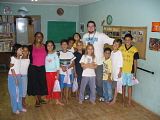 Tiphane and me with the kids.
These pictures are just random at home pictures. The first is me, not sure what was going on in that picture. The other one is from outside the house at night (obviously), and the last one is from the April full moon ceremony, where shortly after looking at the angelic ring around the moon, "psychadelic" prayers commenced shortly after. No pictures from that little event.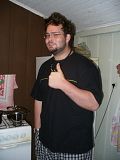 Pay close attention to the hair.
Looking off the porch.
Moon.
Also, for all those who enjoy listening to me talk about politics and stuff of that nature, I will have a video up pretty soon. I urge everyone to listen to it, become inspired, and go out and do something. The world needs activists, protests, and people who speak their mind against the atrocities being committed currently by the US government. But I know people have short attention spans and would rather watch someone speak than read what someone writes, so I'll cater to the needs of those people.