I am gonna post a bunch of pictures that I just recently acquired from other students. So therefore, I couldn't have taken these pictures. Hopefully you enjoy looking at them although the quality of the pictures will surely be less than what you would expect had I taken them myself.
This first group of pictures here was taken at the first soccer game I had ever been to (I have since been to others). It was a team called Atletico Paranaense here in Curitiba (I am now a convert fan to the other Curitiba team, called... C
o
ritiba).
I am confused as to what sort of "football" this game is.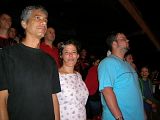 I am still quite confused.
As far as I know, it's just a little game that you kick the ball around and maybe once or twice per 90 minutes someone actually scores.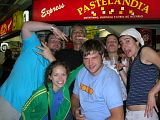 I had to drink at least 5 beers to get this excited about something that I didn't know was even going to happen.
I actually had fun.
Even though I will never understand this silly game that was designed for pansy gay men who are incapable of taking the hits of real football.
Samuel's son. With the few months I have left here, he will become a
football
fan.
Just wait and see.
He's only 12 and is already taller than this 20 year old. He is on his way to becoming Brazil's first NFL player.
----
These next pictures are just random pictures. I'll provide a little explanation if I deem it appropriate.
Samuel wishing he had some fat American dollars.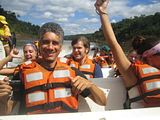 Not sure what's going on here.
Really not sure what to make of this either.
Outside our hotel at Foz do Iguaçu.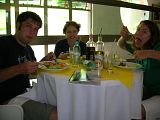 Inside the hotel at Foz do Iguaçu.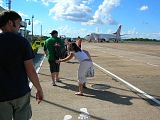 Sexual harrassment on the runway.
Look closely at Mariangelica's face. Now go down some. WTF is going on there?
Mariangelica and her host mom's friend Anna.
Maria and Laura.
This sign says... "Minimum wage: Women's World March in the Fight Against Poverty". The filename for this says "lolfeminism.jpg". I just find the idea that the World March in the Fight Against Poverty here is limited to women is pretty stupid. But, whatever floats the International Women's Day boat is fine by me.
Packing into Professora Mara's car to go to some club that I ended up hating. A rarity since I've been here.
We met this guy who is one of the stars of this tele-novella here called JK (pronounce the letters like you would in the Portuguese alphabet - "jota ka"). Well anyway we were just hanging out eating dinner and this guy walks into the restaurant. We were like "oh snap JOTA KA" even though he's actually the colonel. Just thought it was interesting.
Apparently "I effed up" this night. Not by drinking too much, as per usual, but simply because I went to this place that night.  
Mariangelica, Anna, Joseane, and Tiphane.  
What I originally thought would be my last flight (because of a disastrous crash). I made it back though.
This got old really fast, but everytime there was a group picture someone would say "show me fierce." I hate whoever started that. Either way, look who that is on the left looking to her right. :quagmire:
Matt passed out on the couch in the lobby of our hotel at Foz.
Chrishon (OSU) and Greg (UNCC). 
Caryn getting some barreada dumped on her head, by someone who works there no less.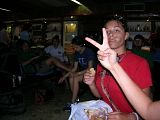 I have no idea what's going on in this picture.
Tiphane doing what she does best: eating.
This is me vomiting a waterfall at Foz.
Random picture at Vila Velha.
----
These next few pictures were taken in just the past few days. We have all already eaten feijoada but none of us had ever made it. This enlightened us to what a long and extensive process it is to make this food, and just how truly good it is if you take that time to make it. This one didn't include pig feet, pig tail, or pig ears (which would help make it a
true
feijoada), but it included all sorts of other pork products.
Caryn and I doing something involving the process of making feijoada.
Crying because of some pansy onions. Get over it.
Stacy thinking to herself, "this isn't normally what it looks like." COME ON WHO GOT THE JOKE!?!?!
Me pulling a long piece of "lingüiça" out of my nose.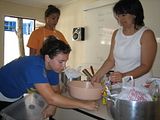 Professora Renata teaching the fine art of feijoada.
Pt. 2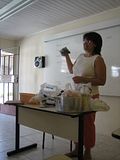 Pt. 3
Fixing up the feijoada.
Here are students eating feijoada with Professoras Fernanda (the blonde) and Renata. I stayed inside alone because I don't like any of the people in this picture, and by "any of the people" I think everyone knows what I mean.
Caryn separating the good from the bad.
Just another one.
STFU.
Stacy donning the naked kiss me chef's apron.
Matt luckily keeping his clothes on. Oh wait, Stacy kept her's on too. Oh well.
---
Okay folks that's it for now. I will post more pictures from the little going away party at Santa Republica in bairro Santa Felicidade as soon as I feel like it. And classes have also started, so soon enough I will be posting some stuff on how all that is going, what I'm studying, the people I'm meeting, etc etc. Stay in touch and I'll keep touching you as well.