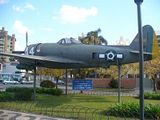 These war artifacts are things used by the Brazilian military during WW2. All of this stuff is located at Praça dos Expedicionários. As you can see, this is a plane.
A tank used by the Brazilian military. This thing is pretty small compared to what you see around today.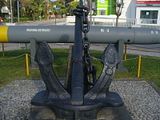 An anchor used by the Marinha Brasileira and a sweet missile behind it. I wonder if it's live?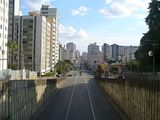 Nice view from the bridge looking over Avenida Visconde de Guarapuava. This was taking while we were walking from the apartment to Jardim Botânico, which surprisingly is only a half-hour walk.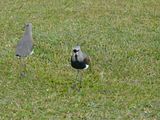 A bird here in Curitiba called "Quero-quero". Which means, "I want-I want." I wonder what it wants so badly? Probably sex.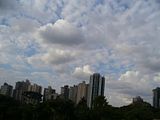 Nice skyline shot from a little hill in the middle of the park.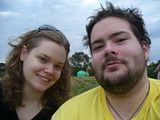 This is what you look like when your shower dies and you haven't been able to take a shower in three days. I'm referring to myself, not Caroline.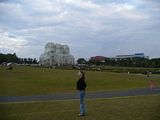 Caroline in the foreground, the big glass building in the background.
Just a shot overlooking the design of the bushes in the park.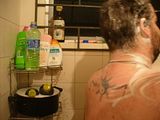 And here are the pictures everyone has always wanted to see. Our shower died, so all we have is seriously cold water. So I decided to let my survival instincts kick in.
What we have been doing is heating water in pots on the stove and using it to shower. I boil two pots of water, one to wash with, the other to rinse with. As you can see on the left, I put bottles of water in the hot water to keep them warm. I use these to wet my hair and to rinse the shampoo out of it. It's actually really economical as now we don't have to use electricity - the stove is a gas stove - and we really cut down on the amount of water we use. Both of those are money-savers, so it's pretty cool actually.
And just one more shot in the shower.
That's all peepz.
We have one more week in Curitiba, then we're off to São Paulo, Salvador and Rio.
In Salvador we'll be staying with Marcos and in Rio we'll be staying with Júlio, whose photo I posted earlier. We met at the event in Florianópolis. I emailed him and told him we were coming down, and he told use to just stay with him since it's only two nights.
Well, I have to go teach my English class. Stay tuned for more, and as always,
Policy Reform in Action
.
Peace out peepz.