Classes start on Monday at 7:30AM, so I figured I would go ahead and post all these pictures and stuff. Also, before I start I wanna give thanks to Roberto for filming the sand boarding section of the video posted below. Definitely good to have a memory of that. It's something I never thought I'd do. Something I really didn't even know existed. So without further delay, here are the pictures. These are all in order, unlike the other ones, so you get to see it from first to last. Aren't you lucky?!
Oh yeah, I almost forgot. The musical debut of MC Meshuggah happened when I posted that video. The music that I added that Caroline is dancing to, is MC Meshuggah. It's off his first EP called #1 Kishka. I'll see what I can do about getting all five tracks from his EP posted up here.
Okay so I lied. Here is a huge amount of text that you can read, or not. It tells the story of most of these pictures and for travelers out there it has some useful information.
It's a few days later, but I'm gonna write up a little bit about all of our time in Florianópolis. Most definitely it was fun. Hopefully you all had fun wherever you're at while we were having fun in Floripa.

First off, we got there at almost 3AM. We left Curitiba at 7:30PM. There is no way in hell a bus ride from Curitiba to Florianópolis should ever last 7 ½ hours. That is just ridiculous. Even Gustavo thought we had given up our plans to leave on Friday and just leave on Saturday because it was taking so long.

Anyway, once we got there we got situated (again) in Gustavo's apartment. We left to see if anything was still going on for the first night of Carnival. Carnival in Florianópolis apparently ends at 2AM, much different than my experience with Carnival in Salvador, where Carnival doesn't actually end. So anyway, nothing was happening so we just went back to the apartment and went to sleep.

Saturday was the day where they released the "blocos de sujo". These blocos, or groups of people who march together under the same banner, are the "dirty blocos"; men dressed up as women as flamboyantly as possible. There were quite a few of them there, actually, and it started to freak me out a little bit when men started to rub my arm or cat call me. One in particular, which at the time was kind of funny but now is just sort of dirty, said "oi gostoso, vem cá para seu papai". Translated, "hey sexy, come to your daddy". So that night was pretty fun.

Anyway, I think I'm getting too old for the type of fun you're supposed to have at Carnival. I think it's just not my thing anymore, at least the events where you can actually particupate (blocos and the like). I think I would probably really enjoy the Rio de Janeiro type of Carnival. Sitting and watching all of the samba school parades go by would be pretty enjoyable.

But that's not what you came to read. So here's some more about what all we did do, not about what I wish I did or didn't do. On Sunday, the day after the "blocos de sujo", we spent quite a bit of time at the beach. We went to Praia do Santinho, where we hung out and ate some good seafood. We didn't get in the water because there was no sun, the wind was blowing at around 30MPH, the sand and mist was stinging our skin, and the water itself was probably just above freezing.

So then we decided to hike up Morro das Aranhas (Spider Hill, Hill of Spiders to be literal). It was pretty fun. It took about an hour to climb, and about 30 minutes to come down. But the view from the top was definitely worth it. On the way up we ran into a man from Argentina in town for Carnival, and also a few Brazilians. One of them spoke English to Caroline while the others spoke Portuguese to me, amazed that an American knew any Portuguese at all, much less able to hold a conversation. So then we came down, at some more food, went back to the apartment, and unless I'm remembering wrong, we just went to sleep. Roberto may or may not have been there when we arrived. I can't remember what day he showed up.

Okay now I remember, he did show up, because the next day we went to Praia da Joaquina to do some sand boarding, as you have seen below. That was definitely awesome. I'll pay to go back to Florianópolis just so I can go sand boarding again. So we were out there for quite a while. After we got back everyone went to Habib's to eat but I busted the hell out of my ass on a fall sand boarding and I didn't feel like moving, much less eating. Seriously, falling on your ass while going down a hill at some way too fast speed is not fun. The fall I'm talking about isn't the one in the video. No, I seriously landed hardcore on my ass. Not fun.

The next day Caroline, Roberto and I went to Jurerê Internacional, which is apparently where the richest people in the south of Brazil live. Huge houses, we saw several Ferraris within a few seconds of each other, very nice motorcycles that most college students in the US could afford but here are extremely expensive (R1s, CBR1000RRs, GSX-R1000s, etc). We went swimming here. The water was pretty calm but extremely salty. We had some corn, some drinks, Caroline and I buried each other in the sand, etc. It was pretty fun. Caroline was too much of a chicken to let me give her boobs and a dong, but I was all like "I want huge boobs and a huge dong with misshapen balls." These old women saw my love parts and were all "meu Deus!" and stuff.

The Jururê day was Tuesday, the last day of Carnival. We went and saw the music, ate some good food, and that was really about it, once we got back from Jururê. We stayed out till the end of Carnival that night, around 2AM, and that was it. Nothing way too exciting or anything, because like I said, Carnival in Floripa is not Carnival in Salvador. But I think I enjoyed this one more. I was able to see some nice samba school floats, some nice blocos and hear some decent music, and I was also able to hike some, swim some, sand board, and eat some awesome food. I wouldn't mind going back to Floripa for Carnival, although I think what I would do during Carnival in Floripa would be the same thing I'd do any other time. Swim, sand board, hike, eat good food, and just kinda chill out.

So anyway, like I said, I'm gonna try to make things informative here a bit since I won't be able to post as many pictures and things like that. So for all the travelers out there who are going to Florianópolis, here are a few tips on how to get where you're going.

1) Don't take a cab, anywhere. It's way too expensive. Of course as a budget traveler, you should know there's always a bus going where you're going.

2) To get to Praia dos Ingleses or Praia do Santinho (where you can hike Morro das Aranhas or to Praia do Moçambique) just take one of the quick "amarelinhos" (yellow buses that take you straight to where you're going rather than having tons of stops). It will say Ingleses right on the front. Get it near the HSBC on Rua Felipe Schmidt, a few blocks away from Praça XV de Novembro. It's R$4,50 (about US$2.20).

3) To get to Joaquina for some sand boarding, there are two ways. You can take the amarelinho straight there (which I didn't do), or you can get on the buses that stop. To do it the way I did, you're gonna wanna go to the bus terminal beside the main Rodoviário Rita Maria. I can't remember the name of it, but you need to go to corridor B and get on the bus to Lagoa da Conceição. One you get to the last stop there (you'll know you're there because everyone has to get off at the terminal), you'll wanna catch one of two buses. Either Joaquina, which takes you straight there, or do what we did, and get on Barra da Lagoa. Get off at the end of Rua das Rendeiras (it's when the bus turns right at the end of the water, can't miss it). Walk up that street about 1KM and you're there.
Sand boarding is R$10 per hour and it's definitely worth it. There is also a nice restaurant across from where you'll sand board. They have some awesome food for pretty cheap.

4) To get to Jururê, get on the bus to Canasvieiras at the same terminal you got on to go to Lagoa da Conceição, only go to terminal D. From there get off at Terminal São Antônio. Get on the bus from there to Jururê and get off when you see the sign that says "Jururê Internacional." Or just ask the bus driver where you get off at.

5) To get back to where you started, just follow the way you took in reverse and you'll get back to Centro.

That's all the tips I have. Of course, to get to Florianópolis, you can take a bus or fly if you're rich. "Convencional" is R$37 (~US$18). "Executivo", which I prefer because you get more room and free water, and air conditioning which comes in handy during the hot months, is R$50 (~US$24).

Okay well, that's all. Have a great time reading and looking at the pictures. Peace.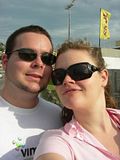 Caroline and I near the Sambódromo looking at the floats.
Caroline staring off into space.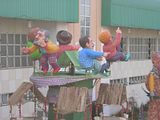 Samba school floats.
Another one.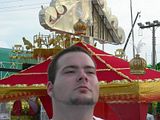 Zack being kingly.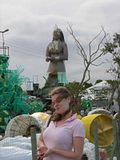 Caroline being herself.
Fairies.
Real fairies.
Caroline hanging out in Gustavo's apartment.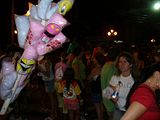 All the rest of these are from the night of the Blocos de Sujo. If you read what I wrote you'd know what that is, but since you didn't you can just bite it.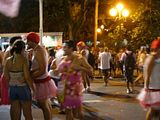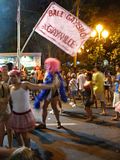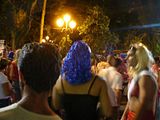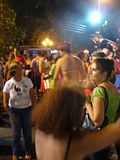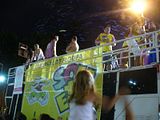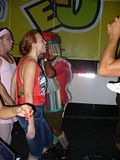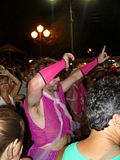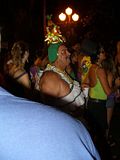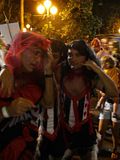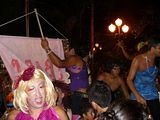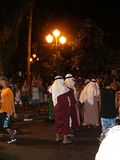 OMG TERRISTS!!!
I think this guy wanted some bone if ya know what I'm saying.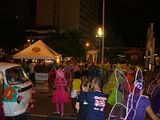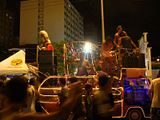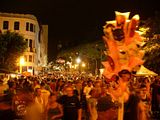 These women, dressed up as cops, were trying hard to get the actual policemen's attention. Would have been funny if they'd have ended up arrested.
This is one of the three stages that had live bands. This is the one night I took pictures here, but the one we really stayed for was a Brazilian band covering lots of old American and British rock songs from the 60s and 70s.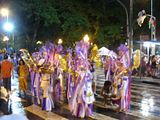 More fairies.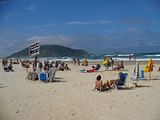 This is us at Praia do Santinho.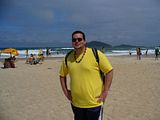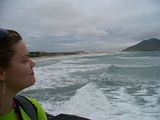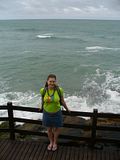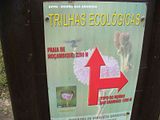 We took the shorter route. Not because it was easier, it was the harder and higher elevated of the two. But we had already been to Praia Moçambique.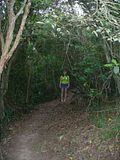 All of these following pictures are of us hiking. It had a great view as you'll see.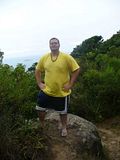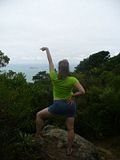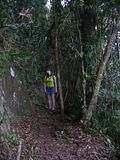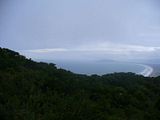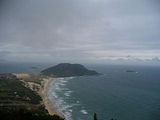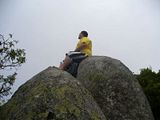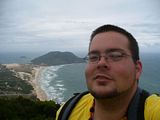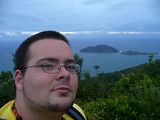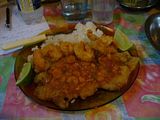 Great food at Santinho.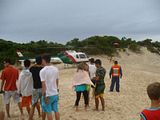 Here we are at Joaquina. This helicopter was airlifting a girl out to the hospital. She was on one of those flat boards with a neck brace. Hopefully she was okay. We still went sand boarding. Video is below.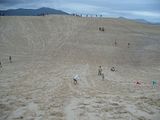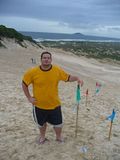 Caroline buried under the sand at Jururê.
Me naked under the sand.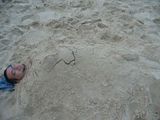 And again.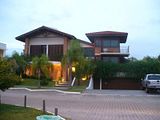 The last few of these shots are nice shots from the Jururê Internacional community.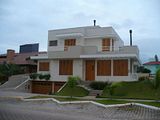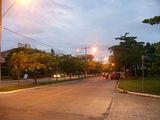 So that's it. Hopefully you have thoroughly enjoyed this post.