While I'm waiting on school to start and things to start happening here in Brazil, I am gonna try to travel around a little bit and see parts of the state I have not yet seen. Until then, I will go to the most popular places that I have already been to! That first place is the beautiful island of Floripa, home to the capital of the state of Santa Catarina, Florianópolis.
I would reverse the order of these pictures but technically they do appear in the right order, newest to oldest. Here is a small narrative about my time there.
We arrived in Floripa at about 2AM after being stuck in traffic for a very long time. It was not the most fun bus ride of my life. We then met up with Gustavo and had a quick bite to eat and a few beers. It was pretty fun overall but we were all very tired after that bus ride. We stayed in Gustavo's dad's apartment. Of course by we I mean Caroline, Vanessa, Roberto, and me. It was a really nice complex with a pool and playground and basketball/soccer/volleyball courts.
The first actual day we were there, I decided it would be a good idea to convince everyone we should visit a very secluded part of the island that I think doesn't attract very many tourists. I didn't know that this would include a 3 hour hike in the 110 degree blistering heat.
For much of what I remember of the hike, it was brutal. It wasn't because of being out of breath, having tired muscles, or anything at all like that. It was the heat. It was coming down extremely hard and I was having a very hard time coping. My head was in extreme pain, like migraine x10 pain. I really think that the rest it hurts like that sometimes, and especially so bad the other day, is because of that little concussion I received last year. Before that I had never had such severe headaches, and now just laughing too much/too hard can cause them. Rachel suggested I see a doctor. She's probably right, but until the US gives universal health coverage my overall health status will go down.
Either way, once we finished the hike I had cramps in my hamstrings, ribs, abs, and shoulders. I drank 3 1/2 litres of water (almost a gallon) during the hike, but I am pretty sure I sweat nearly all of it out. And with that water going out, along went with it all the salt content of my blood. I think my blood started to get diluted and that is when I really started to get bad. I chewed some gum and then luckily someone had half a sandwich, and that defintely helped.
Anyway, once we got there to the lagoon I was really happy I finished the hike. Not because I thought I'd die but because I didn't wanna turn back. It really was a beautiful trail and had lots of awesome views and everything, so I'm definitely glad I did it. Looking back it really wasn't nearly as bad as it felt while I was doing the trail. We got some amazing pictures, got some incredible exercise, and later that night had some amazing shrimp at an awesome seafood restaurant. We paid for Gustavo's meal and also his friend's meal. Gustavo for giving us an incredible place to stay and his friend, Luís, for driving us around to all these nice places.
The next day we didn't do much. I think I was suffering from heat exhaustion. We just walked around the city, ate some ice cream and dinner, then that night watched the Superbowl. It was a great weekend overall and I look forward to going back. R$36 reais to get there and R$36 back is not a bad price at all.
Anyway, so here are all of the pictures. This is pretty much all of the pictures I took while there.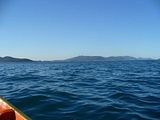 Nice shot of the water.
Caroline explaining something.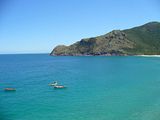 And all the ones below this one until the next comment are of our hike to the lagoon. They're in reverse order so it actually starts once we were at the lagoon. Either way, enjoy these pictures.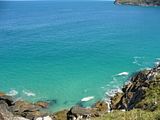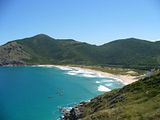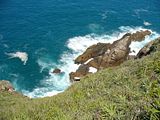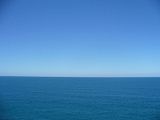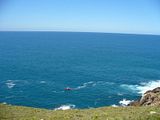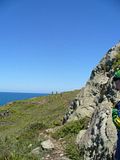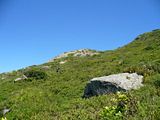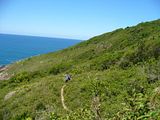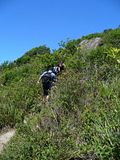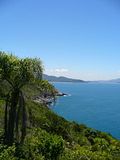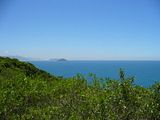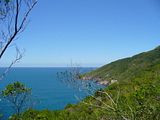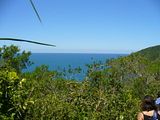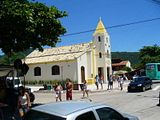 These next few are the walk we took to get to the trail we were hiking. We saw some beautiful beach, beautiful scenery, and even had some nice queijo na braza.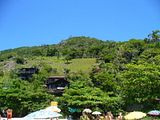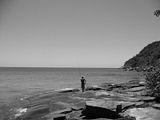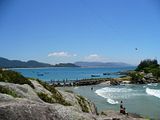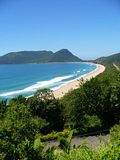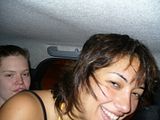 Caroline and Vanessa piled in the back, Brazilian style.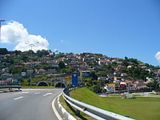 On the way to our hiking location.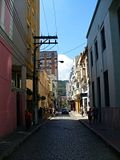 Downtown Floripa near Praça XV.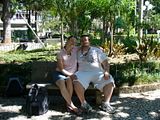 Me and Caroline.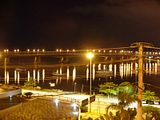 Floripa at night.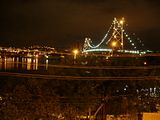 Floripa at night.
So that's all the pictures! Coming up is a trip to Ilha do Mel. We'll probably just camp out on the beach or something like that. Hopefully we can get to a few other places soon enough.
I also found out that Caroline and I will likely have to leave the country. But again, I haven't spoken to the Federal Police about that yet, so we'll see. If we do, we'll probalby go to Buenos Aires. It is a pretty cheap country whose money is still recovering from severe inflation, so we should be okay if we go there. That means this time around in Brazil I may only get to go to Salvador and then Rio once we're leaving the country. Dang.[/sarcasm]
Stay tuned for more!!!