Ahh, my most favorite city in the entire world, Salvador in the awesome-in-every-way state of Bahia.
Day 1: Salvador
I got into Salvador at around 4-4:10PM and went to the tourist office so I could get the numbers to some hotels and find out where the bus from the airport to Centro left from. I should have done that in Rio and I could have saved a ton of money instead of paying that stupid taxi, but oh well, I learned from my mistakes and did the tourist information thing in Belo Horizonte, Fortaleza, Recife, and now Salvador.
I made a quick call to Hotel Barra Mar at Porto da Barra (a very nice area near the lighthouse) and found out that this hotel was across the street from the beach (there are no hotels on the beach in Salvador), it had AC and free breakfast for a grand total of R$35/night. That is insanity. I was like "so yeah I'll be there in about an hour."
I went to find the internet place so I could email some people and make sure they knew I was still alive, and also to make sure Caio knew for sure when I would be arriving in São Paulo on the 26th. After that I picked up my stuff and made my way to the bus stop. By now, even though it was probably 5:30 or 6PM, it was getting quite dark, and by the time I arrived at my bus stop for the hotel, it was completely dark.
I got off the bus and realized the bus driver dropped me off at the wrong hotel, but just to make sure I went inside. Sure enough I was right because a basic room for one person was something like R$300/night and I was like "umm, no." So I walked up the street some to see which way the numbers were going, then turned around and started walking to find my hotel. As I was walking a guy asked me "you trying to find a hotel" and I was like "yeah do you know where this place is?" He told me for R$1 he would walk there with me and show me where it was at.
I have come to learn that all of these people are trustworthy and that as long as you're nice and respectful they'll return the same treatment. He walked and showed me where the hotel was and I gave him the one real so he could eat or buy alcohol or whatever it is he was gonna do with it. Regardless, he was definitely helpful and he can do whatever he wants with his money.
So I checked into my hotel, made sure they took credit cards (they take Visa), found out when the breakfast was and came up to my room to find out that for R$35/night, I was getting an outstanding deal. I went back downstairs to ask the guy which bus I needed to take to get to Pelourinho and he told me to just grab the Praça da Sé bus, so I came back to my room, put on my sandals and made my way out.
A quick note is that in a lot of cities in Brazil it's important to look like you're completely bummin' out and like you're a local. In Salvador, that's hard for me to do since I'm white, but since I did the cornrow deal in Porto de Galinhas, the cab driver, before finding out I was American, actually thought I was a "baiano branco" (white Bahian), so that I figured would help. I dressed in nothing but a short sleeved green or yellow shirt, shorts and sandals in Rio, Ouro Preto, Fortaleza and Porto de Galinhas, and I'll be doing the same here in Salvador.
Anyway I jumped on the bus and made my way to Pelourinho. There I grabbed some beef and chicken on a stick and found the restaurant I ate at in February that had the greatest carne do sol ever and decided that before I leave I will be going there to eat. I checked out a few shops and looked at a few sights and decided that I would come back on another night. I was there for probably two hours (time passes quickly there). When I got back to my hotel I was really tired so I just kinda passed out.
Day 2: Salvador
I woke up a few times at night. The problem with that was that I didn't wake up for the breakfast, so I missed out on that. But again, no big deal. When I woke up I noticed it was pretty cloudy and it sounded like it either had been or was raining, so I jumped in the shower and hung out there for a while, then got out, put on some clothes and decided to see what was going on outside.
Sucks that not only was it raining, but that it was raining quite hard. I decided to walk down the street anyway to try and find some food. I had missed breakfast and the last thing I had eaten yesterday was before my flight, where all I had was two pão de queijo and some coffee.
I walked down the street some and found a nice little place that had burgers, sandwiches, desserts, juices and the internet. I sat down and ordered a burger with BBQ sauce and sautéed mushrooms with lettuce and tomato, some chips and some suco de acerola (juice made of acerola, a fruit we don't have in the US).
I sat around looking outside at the fog-covered ocean, the waves, the rain, the people walking by, and the two Americans in the restaurant who were speaking English a little too loudly. I heard the girl ask if she could take her food to go, so I decided to ask if I ordered something else would I be able to take it with me, and sure enough she said "sim".
So I sat around looking outside some more, then decided to order another burger with chips and juice and to go with that some banana nut bread. So I ordered a burger with mozzarella cheese and sautéed mushrooms, lettuce and tomato and some more acerola juice. While they were making that, I decided I would use their (very cheap) internet access so I could check some messages and make sure I didn't skip over any emails that I didn't have time to check in the airport (where internet was very expensive).
So I checked some messages, replied to one or two of them, talked to Caio and Rachel (who will be in the US on Aug. 15th) on MSN and waited for my food. This restaurant took Visa as well, so that was nice. I think I still have around R$80 to last me until I'm out of the country and now that I have found luck being in a city that takes Visa, it should work.
I'll use the R$80 for the last few souvenirs I want to get, some good food in Pelourinho was the little stands that definitely don't take credit cards, and also for some breakfast or something similar at the airport in São Paulo. Hopefully the places in Miami take credit cards because I'm gonna be hungry as hell once I get there.
Although I'm not excited about leaving Brazil, it is something that I have to do. At least one exciting part about leaving is that my flight from São Paulo to Miami is only from 10:15AM (Brasília time) to 5:30PM (EST), so adjusting for time zone changes that is only a little over 6 hours flight time. Sucks that I have to wait for a little over 2 ½ hours in Miami, and after that I have a 2 hour flight to Raleigh.
Okay well, back to my day. I came back to the hotel with my food to go (after paying Visa ← product placement). I decided to watch Cidade de Deus because it was still raining like a bitch. So then, I watched that movie and once it ended I turned on the TV to watch a soccer game. It was Flamengo (a pretty popular team in Brazil) versus some team of whose name I had no idea. After that was over I opened up my burger, took the cover off my juice and unwrapped my banana nut bread and dove into my food while watching the 2001 King of the Ring Kurt Angle vs. Shane McMahon Street Fight.
And now that I have finally caught up, it is 8PM on July 23rd here in Salvador, Bahia, Brazil. I am probably gonna get up in a few minutes and go outside, find a nice little lanchonete or barraca (food kiosk) on the beach and chill out for a couple hours with some good food and a nice beer, listening to the waves and reflecting on all of the experiences I've had here in Brazil, all the awesome people I've met, all the friends I've made and everything I have learned while I've been here. Until tomorrow!
Ah well, until a little later today actually. It is midnight now and I just kinda hung out, watching and listening to the rain and the ocean, doing some people watching, stuff like that. I watched O Homem do Ano again because it's just a damn good movie, and now I'm gonna go to bed.
Day 3: Salvador
Ah yes, waking up to a beautiful sunny day in Salvador is a pleasure that I have no felt since the end of February. This place truly is magical. I really love Salvador. It's really too bad I couldn't have come here to study. No loss though, I had a sweet time in Curitiba and will be back here sometime soon.
I have some philosophy to type later because right now it is 9:10AM. I just finished eating breakfast (the free breakfast at the hotel was actually really good.) I had watermelon, a bunch of crackers with some sweet homemade butter, some French bread, mozzarella cheese, goiabada, and about 4 cups of coffee. Mm, I love it when I get some good coffee instead of crap coffee from the airport.
Anyway right now I am about to get out of my room and head out to the Pelourinho again. It is a beautiful and warm sunny day, the ocean is shining a crystal blue and there is not one cloud in the sky. I'm gonna try and visit the Sacred Art Museum, the Afro-Brazilian museum, Mercado Modelo (to buy some stuff), and then just see what else I can get into. I might see if I can find a Sebo somewhere and buy a few good books in Portuguese to take back with me. I want to get three books before I leave, all three by the same author, Jorge Amado. Apparently he is an author that was on the short list of the Nobel committee until he died in 2001, and everyone has said that even though I don't like fiction too much he writes novels that are amazing. I'll see what I can do.
But, I am about to head out, armed with my travel book (which I wish now was in Portuguese I've read through the damn thing so many times), my camera, and a little bit of money. It is 9:15, I expect to be on the bus at about 9:30AM, and I don't plan on being back here until 5PM, at which point I will leave again to watch the pôr-do-sol (sunset) from the Farol da Barra (Barra Lighthouse, which according to what I've read, didn't always work, evidenced by the many shipwrecks you can dive off the coast here) and then spend the evening cruising up and down the coastline, maybe having a nice dinner of fresh-caught lobster.
Lunch is in a few hours though, and my stomach is prepping itself for carne do sol. I only have a little bit of time left in Brazil so I am gonna see everything I want to see, do everything I want to/have wanted to do, and buy whatever else I want to buy. I have a stack of clothing that I am gonna donate to this place I found here in Salvador. Mostly just some shorts and shirts. I won't be going back to São Paulo with too much stuff and I plan on getting rid of some stuff at the São Paulo airport (they have a donation center there, too). Anyway, off I go to the Pelô (as the locals call it).
Okay I'm back. That sure was a long ass day in the Pelourinho. I spent the entire day there, within one square mile area in the historical center of Salvador. About 9 hours in that tiny little area and believe it or not, I could have easily spent another 4 or 5 hours in that same area. It's amazing how much there is to do and see and experience in that one little area.
I decided to keep my nighttime adventures through Pelourinho for tomorrow night. I'll go see Olodum play, see what other groups are playing in all the little "praças", etc. I'll save it all for tomorrow night.
As for today, I got on the bus around 9:30 like I had hoped and arrived in Pelô around 10AM or so. I got off and walked to Praça Tomé de Souza and there I met up with a tourist guide who was so delighted to learn that not only was I American but I also spoke Portuguese that he offered to tour me around the Pelourinho and explain to me all the history of the churches, the buildings, the markets, and everything else, even down to the construction of the roads. I was like "y0 how much?" and he said "usually at the tourism office this would cost R$100 but for you I'll do it for R$40." I have been getting lucky with the negotiations and/or people just being outright nice on this little trip.
So he showed me around all of the little praças, followed me into the Afro-Brazilian history museum (if anyone goes there ever, try and get Viviane as your guide – she was not only exceptionally gorgeous but also incredibly intelligent), showed me a place or two that most tourists probably don't find and was just overall a really nice guy. When there wasn't much going on in the way of history conversation we just talked about Brazil, the different cities and the people that make up those cities.
I'll explain the history of these places when I post the pictures. As for the big thing, I spent way too much money today; around $250US if not more. I think it was money well spent though. I bought one of these 100% pure crude-cotton shirt-and-pants sets I've been wanting ever since I first saw them (here in Salvador back in February), two incredibly gorgeous tapestries for mom (one is made from coconut fibers, imagine how hard that shit must have been to make – I was told it took two months to make and weave by hand; the other is from 100% pure crude-cotton, hand-woven from the middle out, that took four entire months to complete).
These four things combined cost R$450, and I also bought a bottle of chocolate-and-mint liquor for mom (although I might end up drinking it all – I tried a sample at the store, Delícias Bahia, and damn was it good). I tried to buy one other thing but apparently I am $5 away from maxing out my second credit card so I have to go back tomorrow and see if I can either get a refund, bargain them down to R$50 (from R$150, highly unlikely) or possibly get something else worth R$50 (most likely option).
Like I said, a lot of money spent but I definitely think it was all worth it. My only worry now is damn US Customs being a bunch of bitches to me in Miami and hassling me over the stuff I've bought (particularly the cachaça and the chocolate-mint liquor). I really hope I have no issues going through that crap. I will be pissed if I do (but won't be able to show it!)
I also had some awesome food at this place called Mão Dupla. I had Filé Parmidiana, which was a sweet piece of stuff fried up and covered with salsa, presunto and mozzarella cheese. It was served with black-eyed peas (my hump, my hump), white rice, farofa, pirão de aipim, and to top it all off, I had a glass of suco de maracujá (passion fruit juice).
It was delicious, but I must say, after the meal I ordered a glass of suco de acerola (again, acerola juice, a fruit not found in the USA that I'm aware of). I have had suco de acerola at probably 100 different places in Brazil, and out of all those places, the juice they served me was the best juice I have ever had in my entire life. All the fruit juice I've drunk, all the various fruits, this was easily the best I've ever had. It was crazy good.
I was invited back by the owner of the place to try some of their muqueca, "the best muqueca there is", but unfortunately because of my checkout time and lack of money I don't think I'll be able to get out there and try it. Quite unfortunate, too, because she told me the muqueca was "the best there is" and also that it has about six different kinds of "frutos do mar" (seafood), anywhere from squid, octopus, shrimp to various types of fish (man that pintado I had in Bixiga sure was good). If I think I can swing the price I'll try and get out there and sample some of that food. I really have no money though.
In my wallet right now, I have R$11.20 and about $68US in my checking account. About $50US of that is gonna the hotel, and hopefully Mom puts that $30US in my account that I asked about. I don't think I'll spend it but it'll be nice to have it just in case.
I have to make sure and use none of the cash I have except on bus fare though. I need R$4.80 for the bus to the airport and I need R$3.40 for the bus to and from the Pelourinho, so that leaves me with R$3 which I will likely use to buy a bottle of water or something like that. I do have four bottles of water in my room though, although all four are filled with water from the sink (I'm not too high-maintenance I don't think). They're chillin' in front of the AC.
Anyway onto my philosophy I mentioned earlier. Basically it boils down to this. I don't think the "normal" life is for me anymore. I want to graduate, I want to go to graduate school, but really I think I just need to live like a hippie. I want to come back to Brazil and live here for the rest of my life. I have never in my entire life been more at peace or happier than I have been not only in the past 6 ½ months, but especially the past two or three weeks. I know it wouldn't be like that always because stress always pops up, but I really think that in my life that is what would be best for me. I could come here and teach English and at the same time become 100% fluent in Portuguese. I could do my graduate studies here if I could pass the exams. I'm sure I could do any number of things if I wanted to.
I guess the next question after that would be where I'd want to stay. I love Salvador so much. Much like when I first arrived here in February, I again immediately felt at home when I got here. I don't know what it is about the city but just being here I feel 100% comfortable and at home, like I'm here with family I haven't seen in a long time but love and remember and have sentiment all the same.
I have pretty much ruled out Curitiba. Nice city but I don't think I could live there. Florianópolis would be another option but I'm not really sure what I think about that city. I have heard really good things about Porto Alegre in Rio Grande do Sul, but I haven't been there so I don't know. I loved Recife when I was there and I wouldn't mind at all living in São Paulo teaching English. I'm not sure about Rio either. I guess really I have plenty of time to think about all of this, I'm just doing it now because it's so close to the time for me to leave.
It really sucks the idea that I may have to spent about 10 hours of my last day in Salvador at the damn airport. I found out that I have to check out by 11AM to not be charged for another day, or I could check out by 5PM and be charged only half a day extra. Again, that is not something I want to do, but I also don't want to have to lug around this huge bag, along with my bookbag, while walking around Pelourinho. I may ask if I can just stash my one bag at the front desk for a while, at least until I get back from taking care of that R$50 thing at that one store, without having to pay.
Anyway, I plan to get up at around 7AM, go get some breakfast (at least that's free), then get on the bus and see what I can do in Pelourinho early in the morning. Hopefully that store opens early so I can take care of that little problem early. I guess I'm done writing for tonight. I'm gonna go open up my little bag of snacks that I brought with me and eat that for dinner. At least I can eat for free (breakfast, at least) tomorrow. Maybe that R$3 I'll have left can go towards something exceptionally cheap.
Now that I look, this entry for day 3 is really long. Oh well, just like the stuff I bought, it is well deserved. I love this city and the Pelourinho is probably the best part of any city in all of Brazil.
Oh snap I forgot, I took my cornrows out last night with the full intention of getting it redone today (two of them were already coming loose), so as I was walking out of Mercado Modelo a girl approached me asking if I wanted to get it done, so I was like "most definitely". I got the top half done and the back ends of it braided with little green and red beads. It's pretty awesome I think. I may just have to keep my hair like this all the time from now on.
Anyway I'm gonna pack up all my shit, take a shower, then get some sleep because it's been a long day, I'm tired and my feet hurt. I'll write more tomorrow in the airport while I'm waiting several hours for my flight. Peace out peepz.
Day 4: Salvador
Last day in my favorite city in the world is today. I woke up around 8AM and around 8:30AM went down for breakfast. I made sure to eat like a champion this morning because I don't anticipate eating again until I get on the plane and they serve us some shitty snack. Actually, TAM is pretty awesome with the snack stuff. Usually all you get is peanuts or some gay granola bar, but they serve up hot sandwiches with smoked turkey and cheese, some awesome chocolate or caramel balls and some good juice. So I'm hoping for that tonight.
So let's see. Some good news is that I found out as long as I check out by 11AM I can ditch my stuff here and they'll keep it safe for me (I'm still taking my computer and camera though; TRUST NO ONE!!!) So that means I don't have to go to the airport at freaking 12PM or something and sit there for 14 hours. I'll probably come back to the hotel around 8PM and then get on the bus to the airport. The last bus to the airport leaves at 10:30PM but I need to make sure I'm out there in time. Two hours may seem extreme but I cannot afford (literally) to miss this bus.
So at least now there is a chance that I will get to see Olodum play (for the second time, unless you want to individually count the times I saw them during Carnaval; how many of you stupid Americans can say that!?!?) I might try and catch the Mass at the church in Pelourinho that was built by slaves and was also the only church they could attend. I can't remember the name of it right now.
Normally I wouldn't think of gonna services at any church but I have heard that tourists from every religion and region of the world go because instead of having gospel-type singing and organs, they have very lively services with lots of African instruments and a lot of drums and other percussion instruments.
I hear they also have a huge painting of Jesus and his disciples and everything in the church. So you ask, "What's so special about that? Lots of churches have that!" Well, it's because instead of them being the Aryan looking middle-class white folks, they're all brown-skinned, which is at least much closer to historical fact with regards to their race than the former description.
So anyway my plan is to do the following: It's 9:21AM right now so I'm thinking I am gonna chill out for a little bit, maybe an hour or so, then go downstairs and take care of my checkout stuff. After conversion rates it should come to about $47US, so if that $30US was put in my account like I hope then I should actually have enough to eat in Miami. Back to my plan now. I'll get to Pelourinho around 11:30 or 12PM, depending on how long I have to wait for the bus, and then I will just wander around there for a few hours and see what all is going down there. I should have a few reais on me so if I want to skip out on using the internet (which is another thing I could do to pass an hour before I catch the bus) I could grab a nice espeto de carne com farofa (BBQed beef kebob dusted with farofa) or maybe one de frango (chicken).
Time will go by quick once I'm in Pelourinho. The guy I talked to who I am trying to be the Balangadã from (will explain what that is later) is gonna show me his master's thesis that he did on the Angolan civil war (something I was interested in researching but was severely lacking in resources). I talked to him yesterday for probably an hour or so. After that I'll see what else I can get into.
Hopefully find the Sacred Art Museum and see what all the hype is about (Frommer's gives it 3 stars, their highest rating) and since I have about $5US on my credit card, I'll see if I can find a Sebo and find a good book in Portuguese to read while I'm waiting in the airport and on the plane. I wish I had some damn headphones because I would like to watch a movie or listen to some music in the airport and especially on the plane.
So, back to my plan again. After wandering around Pelourinho for a little while I will come back to the hotel, grab my bags and jump onto the bus and make way for the airport. I have a bag full of clothes I want to donate so I'll have to do that as well. Keren made a funny joke (not sarcasm there) that it was really generous of me to donate my clothes because instead of providing clothing and warmth for one person for each article of clothing I'd be providing the same for two people. Get the joke? I sure did. I mean it's funny because it's probably true, which I guess is not only funny but also quite nice of me! As I've said plenty of times… life is all about sacrifice (of goats and babies!) Okay just joking.
Anyway I'm gonna lay out for an hour and listen to some Brazilian music to spark up my energy then I'm off towards the Pelô.
Oh while I'm just lying here chillin' for a while, I will type up that I have decided to move FIU (Florida International University, in Miami) to the top of my list of considered graduate schools. I actually think I have about a 99% chance of being accepted there (unlike Chicago, Boston, or Amherst) and they have a Master of Arts in Latin American and Caribbean Studies (MALACS) with a MALACS concentration in Brazilian studies. Based on what I typed in my little "life philosophy" section up above I will probably do the concentration in Brazilian studies with the two breadth requirement concentrations in Comparative Politics and International Development.
They also offer a joint JD/MALACS and a joint MBA/MALACS degree program if I decide I want to go that route (I would probably skip out on the JD option if I have to take the LSAT to be admitted into the joint program, which I probably would have to do). I was also thinking Brazilian studies, Cuban studies and International Development. If I went this route I'd definitely have to get my Spanish back up to par, but I don't think that would be a problem. I figure that would be an interesting combination as I could compare the methods and processes of development in two areas that while completely different in a lot of things have a bit in common when it comes to the development of each nation.
Right now I'm gonna list my favorite cities in Brazil, in order. In the case of a few of them (where very little time separates them and they shouldn't really be listed individually) I'll just put them together.
1) Salvador
2) Recife/Porto de Galinhas
3) Belo Horizonte/Ouro Preto/Mariana
4) São Paulo
5) Foz do Iguaçu
6) Fortaleza
7) Florianópolis
8) Rio de Janeiro
9) Curitiba
Funny that I spent a huge amount of my time in Curitiba but have it last. I was also less than impressed with Rio de Janeiro. I'd probably only go back with other people. I think it's one of those cities where you have to be there with other people to have fun because Cariocas are less than open and less than welcoming when it comes to people who aren't from Rio. São Paulo is exceptionally different in that regard. Florianópolis is low because I had a bit of my time spoiled there, although I'm sure if I went back, even by myself, I'd enjoy it a lot.
But, as you could have guessed from reading this whole huge thing, Salvador is most definitely my favorite city. Out of all the cities I've been to, in Brazil and the USA, Salvador is my favorite. I've been to a lot of big, nice cities in the USA and quite a few large and heavily populated cities in Brazil, but Salvador could easily occupy the top three spots on my list. I don't know why, I just love it here and feel 100% at home and welcome here, despite my gringo-ness. I could not have chosen a better city to spend my last few days in, although I'm pretty sure if Becca and Keren were here it would have added a bit to the fun. Either way, I love Salvador. I now know how Marcos feels. I still remember that night when me and him and Mariangelica (screw grammar) were swimming in the ocean and we swam out to these boats docked off the shore. He climbed onto the top of one and opened up his arms and yelled out (in English) "I love you Salvador". I can't express that the same way because I've spent a grand total of two full weeks here with a 7 months period, but if I were to live here for an extended period of time I would most definitely love it here the same as him. Okay that was a long paragraph.
35 minutes to chill out now. Peace until the airport foolioz.
Okay so I have to wait about 6 hours until my flight leaves, so that really sucks. I spent quite a bit of time in Pelourinho today again. I went to a few more museums and went and talked to my new friend at the gems place. He told me to go ahead and take the Balangadã and whenever I have the rest of the money I can just wire it to him Western Union. Pretty awesome of him to trust a gringo like that. I went back to Mercado Modelo and bought two necklaces that have a Balangadã on them. One is pretty small and subtle, nothing too flashy, but the other one has a lot of stones on it and is pretty long so I might only wear that one at certain times, with certain clothing, etc.
I visited the Casa de Angola na Bahia and saw some tribal statues, masks, weapons and other stuff from Angola. Only one other visitor was in there until a group of students showed up. They were pretty excited to have a Portuguese-speaking American in there. I guess they don't get too many people in there at all from the looks of it, so I guess I was a special visitor.
I saw my tour guide again from yesterday. I was supposed to meet him at 9:30AM to go see a few more places, but after finding out my credit card had finally been maxed out I didn't even get to Pelourinho until 11:30AM. He told me no problem and that when I'm back in Salvador to give him a call (he gave me his number and card and stuff) and he would show me the places.
He also gave me a gift and that was really surprising. It was a copy of Olodum's 25th anniversary performance in Salvador. That was pretty awesome because I had no possible way of seeing Olodum perform live tonight, seeing as how the show started around 8:30PM. The Mass at the Catholic Church in Pelourinho I talked about earlier was also packed to the doors so I decided to skip out on that.
After that I hung out above the elevator, looking out over the bay and over the "cidade baixa" (lower city) then decided to just go ahead and jump on the bus. I stopped by the little internet café that has really cheap access and email Mom, Caroline, Claire, Joe, Nikki and Caio really quick and then found out I had over drafted my checking account by a few dollars.
After 20 minutes on the Internet (for R$1) I decided to get to the hotel and grab my bags. So I did just that. I picked them up, rearranged a few things and walked down the street to the bus stop. I had to stand there for probably 30 or 40 minutes just waiting on the bus to the airport to show up. It was worth the wait though, because the air-conditioning and reclining seats were definitely comfortable.
**Pictures**
Offices of the Naval Command in Salvador. Pretty nice building.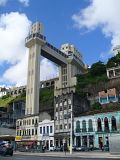 The huge elevator. It's a long ride down. One car can hold 15 people.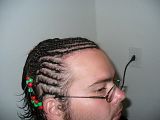 Me with the new cornrows.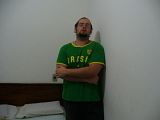 Me modeling by the wall in my hotel room.
Thought this was a nice artsy shot. This is near Pelourinho.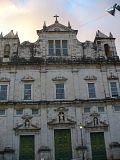 These next three are churches.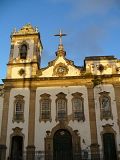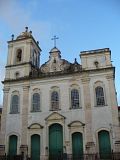 The Orixás at the Museu Afro-Brasileiro.
The
House of Seven Deaths
. An infamous murder took place here. Seven people were poisoned to death.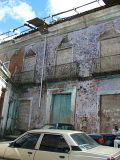 Naturally, it is a condemned house.
This point is where the first Easter in Salvador took place.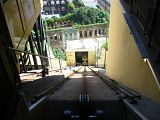 Another crazy elevator in Salvador.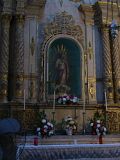 The greatest Jew there ever was. I took this at the Igreja Nossa Senhora do Carmo.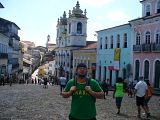 Me hanging out in Pelourinho.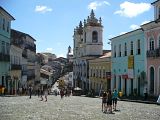 Me not hanging out in Pelourinho.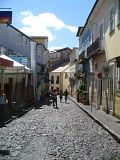 The cool side streets of Salvador. Lots of nice shops and places selling some cool stuff.
Artists selling their work on the street in Pelourinho.
And here is me, hanging out near the huge elevator (about to go to Mercado Modelo).