Rio de Janeiro: Day 1
I got to the airport here in Rio around noon, got into the cab and right now I'm in my bed at Hotel Astória. I was gonna stay at a hotel on Ipanema Beach, but here on Copacabana my hotel was R$20 less per day, so three nights here will cost me only $135US, so that's not too bad.
I left two of my bigger bags in São Paulo at Caio's house, and I bought with me my book bag and my other carry-on bag. I have my camera so I'll be able to take plenty of pictures for everyone. Right now I'm just chillin' out in the hotel (it's 2:20PM right now), and a little later I'm gonna go to the beach and then to eat.
My hotel is really close to the subway station so that'll let me visit a lot of places. I don't know if I'm gonna go anywhere outside of Copacabana today, but looking through my Frommer's there are plenty of places I would like to see. A lot of museums, a huge library, Candelária, a bunch of beaches, Maracanã stadium, the botanical gardens and Rio City Zoo.
More than likely tomorrow I will go to the botanical gardens, the zoo, and Maracanã stadium, and then Thursday I will go to the museums, the library and a few other beaches. I'm thinking I might not actually go to the Corcovado or to Sugarloaf Mountain. They're both expensive to get into and I can take pictures of each of them from other points that are free. My Frommer's gives some suggestions for good spots that are free to see the whole city.
However right now I'm gonna take a little nap and afterwards I will wake up, take a shower, dress up like a Carioca and after all of that, go eat some good food and walk down the beach. There is a full moon today, so I'll sit at a little restaurant late at night, drinking a caipirinha and thinking about life.
Bye for now.
--
Okay, after I finished typing I actually just got up and went outside. I walked a few miles up and down the beach then walked around Copacabana for a little bit. I looked for a few good restaurants and found a couple places that look good, but most of the really good looking places seem to be far from my hotel. I went to Pão de Açucar (a grocery store here in Brazil) and bought some apples, tangerines, some chocolate, some granola bars, and a few other things.
I'm not sure if I'll go out to eat tonight, I might just stay in. When I was walking it started to rain a little bit so I think it will probably rain tonight like it did all day yesterday and the night before in São Paulo. I might type more later, but as of now, I'm planning on getting up at 8AM and gonna these places:
Botanical Gardens, Maracanã Stadium, Rio City Zoo, and if I find any other places near those that are interesting I'll stop by there as well.
Rio de Janeiro: Day 2
Ahh, lovely Rio. I got up today at around 9:30, took a shower, and left the hotel at around 10:15. Even though the hotel has what looks like an awesome breakfast (included), for some reason I skipped it and went straight to the metro station about two blocks from the hotel. Having a hotel two blocks from the metro and two blocks from the beach is nice. The weather here was nice all day. It felt like a warm spring day, quite a change from the 40F days in Curitiba.
Today I went to the Rio City Zoo, Maracanã Stadium, Quinta da Boa Vista, and the National History Museum. I decided tomorrow I will go to the other museums in Botafogo and also the Botanical Gardens tomorrow. There are a few places I can visit that are free that have incredible views so I will go there to take pictures of Sugarloaf Mountain and the Corcovado.
I may go to Centro as well but it all depends. A few places I haven't actually gone into just because I'm so poor right now. I can't spend too much too soon because I don't really know how much I have, and that combined with the fact that I still have another full day in Rio plus getting to Belo Horizonte on Friday. I'll go to a place with the Internet sometime today hopefully and see how much money I have and all that stuff. I'll probably be living out of hostels and on fruit for the next two weeks. It's all good though. I'm probably just stressing too much about the money issue.
Anyway, onto my adventures today. I got up and caught the metro and took it to São Cristóvão Station and from there walked to Quinta da Boa Vista, the National History Museum and the Rio City Zoo. After that I got back on the metro and went to Maracanã Stadium. I didn't go in because I didn't feel like spending R$20 to go in just for a tour when I could spend the same amount on a game itself. Unfortunately the next game at Maracanã is the 19th, and by then I'll be in Recife.
At Quinta da Boa Vista I walked around the lake they had, watched a bunch of little kids go fishing and from there I went to the National History Museum. It had a lot of artifacts, books, paintings and other things starting from the year 1500 when the Europeans discovered Brazil. Like most museums, I wasn't able to take pictures, but I did get a nice picture of the full museum out front then one with my head stuck in front of it.
At the zoo I just saw a bunch of animals, it was mostly like other zoos except for the amazing variety of primates and birds that they had there. Apparently Brazil has a nice variety of fauna. I wished they had a lot more types of reptiles but it's all good.
Again, at Maracanã I didn't really do anything. I just saw the stadium and that's it. Nothing more to it than that. I did walk around the area though for about an hour just looking at the stadium and buildings. The Pan-America games are in Rio in 2007 so the whole area was very nice.
Okay it's late and I'm getting up at 8:30AM so I can get the nice hotel breakfast then go to all the other places. Tomorrow afternoon I'm gonna hang out at the beach for an hour or so. Since I'm not a huge fan of the ocean I'll probably just swim in the pool at the hotel. I'll reserve the ocean swimming for Fortaleza and Porto de Galinhas. Okay I'm gonna bed.
Day 3: Rio de Janeiro
I got a late start today because I was tired as hell this morning from walking around everywhere, so I slept in until probably 10:30. I got up and then took a shower, then went straight to the metro. I got off at Botafogo and from there went to Morro de Pasmado (Pasmado Hill) to see Sugarloaf Mountain and the Corcovado. I couldn't afford R$65 to go stand at Jesus' feet and couldn't afford R$40 to go to the top of Sugarloaf Mountain. So instead, I walked a mile or so up the little mountain.
Unfortunately, the view wasn't nearly as good as Frommer's made it out to be, so I walked down and went to Botafogo beach instead and took a few pictures of the mountain there. I have already taken enough pictures of the big Jesus so I didn't take anymore, even though I had a few good chances to get a decent shot.
I went into the Indian Museum and Villa Lobos Museum. I was in Botafogo for nearly 5 hours. After those two museums I got back onto the metro and took it to Cinelândia. I wasn't there but for maybe 90 minutes, but it was an awesome part of Rio. There were lots of little parks, monuments, cultural centers, libraries and theatres there. I wasn't able to get into some of the theatres because of what I was wearing (shorts, t-shirt and flip-flops), but I did go into the National Library, the little theatre to the side of the library and a few cultural centers. Unlike the "Passeio Publico" in Curitiba, the one at Cinelândia wasn't worth going into.
I guess I can't forget to mention hang gliding. Talk about an experience. Jumping off of a mountain in a tandem flight not knowing what was about to happen was pretty crazy. I didn't get any pictures because they recommended I leave all my stuff at the hotel (because we took off from a mountain near Tijuca and landed close to Botafogo (welcome back). So I left my stuff at the hotel, but after I got done and everything I was asked if I wanted to pay R$40 for a CD with the pictures they took. I gracefully declined, figuring that I could have taken those pictures myself. I also figured "I'm badass enough that people will know I went hang gliding."
Unfortunately when I got back to the hotel it was around 6:30PM and the Botanical Gardens here close at 4:30PM. I went to the Botanical Gardens in Curitiba and I think that the one here can't be too much different than the one in Curitiba.
Tomorrow I leave for Belo Horizonte at 2PM and get there at 3PM. I have all my stuff ready, so I'm getting up at 8AM so I can walk to the beach, take a few pictures, then I'll grab some coffee and some bread at this local bakery I saw, then come back to the hotel for the real deal. Right now though, I'm gonna go to bed because it is 3AM and I'll be getting up in five hours. Bye for now, more to come.
Day 4: Rio de Janeiro
Well dang, I didn't write this last night but Caio told me he can't come to Salvador because he got a "promotion" which means "more money" but don't forget that also means more work which means "the man" has gotten to him. Right now I'm at the airport waiting for my flight to Belo Horizonte. It leaves at 2:05PM; right now it's 1:20PM.
Today I didn't do anything except walk to the beach, hang out there for a little bit, bought a shirt, a kanga and a keychain. I had some good breakfast at the hotel, ham, turkey, cheese, orange juice, coffee, cheese bread, and a few little dessert things. Pretty good stuff. I have heard the food in Minas Gerais is some of the best in Brazil (Belo Horizonte is in Minas Gerais), so I'll have to find somewhere really good to eat tonight.
I talked to a guy from Forum HBD named Pedro who lives there in Belo Horizonte. He told me he would meet up with me, help me find a good and inexpensive hostel and we could play some pool and maybe grab a beer together.
Anyway, I'm gonna look through my Frommer's again and see what's the deal in Ouro Preto, then get on my flight and book it out of Rio. It's been fun, "Marvelous City", but now it's time for me to go. I'll be back one day to take over. I'll be writing more from Belo Horizonte tonight or tomorrow. Don't forget that on the 18th I'll be in Fortaleza! Bye.
Ah shit, they just announced my flight is gonna be 30 minutes late. Damn it. Dang, there is this other flight that is 90 minutes late. I'd hate to be them!
Pictures: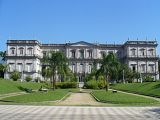 History museum in Rio at Quinta da Boa Vista.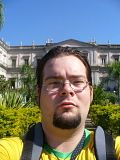 Me in front of the history museum in Rio at Quinta da Boa Vista.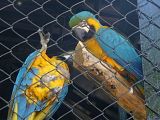 Parrots at the zoo in Rio at Quinta da Boa Vista.
The water cycle and how the Rio zoo uses water explained in Portuguese in Rio at the zoo at Quinta da Boa Vista.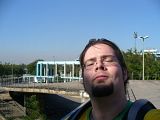 Me standing in front of history Maracanã soccer stadium, where after building it specially for the 1950 World Cup, Brazil lost to Uraguay.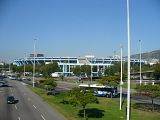 Maracanã Stadium.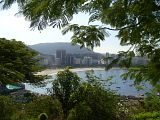 Looking out over Botafogo Bay from Mirante da Pasmoda.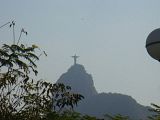 The closest I got to Cristo o Redentor (Christ the Redeemer).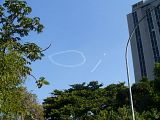 The Brazilian Navy flew some jets out over Botafogo Bay and wrote "Oi" twice in the sky to greet all the tourists.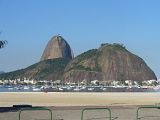 Sugarloaf Mountain, from Botafogo.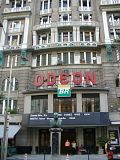 Sex Panther, made by Odeon, it's illegal in 9 countries.
I took this picture at some park while I got lost in Rio (intentionally) for about 12 hours.
Old ass viaducts in Rio, taken whilst lost in Rio.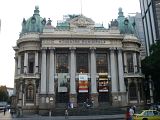 Municipal Theatre.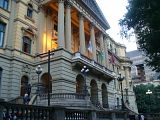 Big ass National Library here in Rio. I also went to the Public Archives Library in Rio.
Jesus loves Bob's Burgers.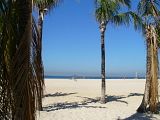 Hanging out under the sun on Copacabana Beach.
And again.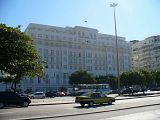 And my hotel, Copacabana Palace. Yah right, like I could have afforded that shit (R$700/night).
Okay I hope you all enjoyed this update. I didn't take too many pictures in Rio since I was by myself and I mostly just wandered the city or hung out on the beach. Peace out foolz.