Dr. Anderson and Dr. Ingram, both professors at WSSU, were in Brazil from March 4th until March 11th for meetings and other stuff over WSSU's Spring Break. Here are a few pictures from our time together (except the last picture, which I took today).
Two WSSU reps, Zack and Tiphane.
I thought I got rid of Mariangelica.
Dr. Ingram and Tiphane.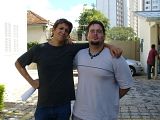 Leonardo, former UNCC FIPSE/CAPES exchange student, and me.
Me instructing Dr. Ingram how to work my camera.
Me not instructing Dr. Ingram how to work my camera. L-R: Tiphane, Dr. Anderson, Zack
:iiam:

Cloudy over Jardim Botánico.
It may be hard to see, but shortly after I took this picture, the devil spirit that was in that waterfall swallowed that little girl whole. See if you can pick out the mouth and eyes of this horrible creature. If I need to, I will upload a high-res to help.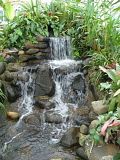 A little waterfall inside the greenhouse.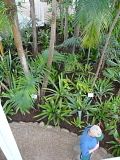 Dr. Anderson walking through Jardim Botánico.
And finally, the greatest American there ever was. His picture is hanging right above my bed. I'm pretty sure this is the reason why I never am able to sleep. His picture above my head fills my body with guilt about what a bad person I am.