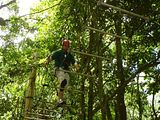 Canopy tour atop the trees.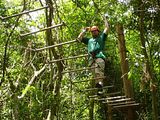 Same.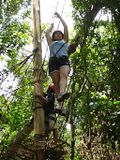 Caryn tearin' it up through the trees.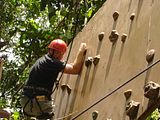 Matt makin' the easiest part of the course look even easier.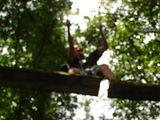 And then almost bustin' his ass by falling off.
As I smoothly glide across the same log he almost fell off of.
Mitsuru dancin' across the ropes.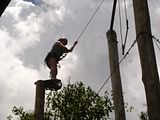 Caryn jumping for her life from probably 70 or so feet above the ground.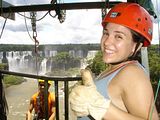 Caryn getting ready to rapel down a 60m cliff.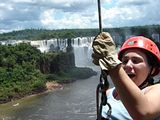 And she's off!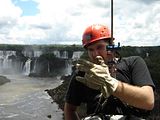 Matt throwin' up the shocker. Foreshadow to what might shock him as he goes down.
Matt as he stops to view the flashes (not of the camera) or some unnamed females. We both got to see the goods.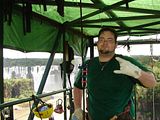 My "this ain't shit" face.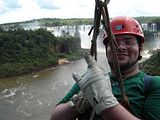 How can someone with so many tattoos and who is about to rapel to his death have such nice looking dimples?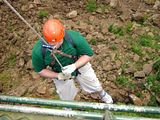 You see how far down those rocks are? It took me probably two minutes to jump the whole way down.
In Salvador there is a place that has a 460 ft. drop that you can rapel off of, and since it'll be me, Matt, Mica, and Laura there together, I know we'll all end up rapelling since we all rapelled at Foz do Iguaçu. I can't wait.
That's it for all my pictures. If you're looking at this then there are three more updates from today below this one, so check those out as well.