So the feijoada has been eaten (not all of it, believe me), caipirinhas have been drunk, pie has been eaten and everything is in the process of being cleaned up.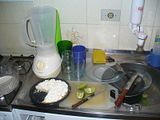 Caipirinhas and lime pie. Good stuff.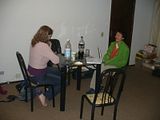 Caroline and Woosen, a South Korean who is studying Portuguese at CELIN.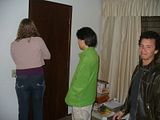 Everyone has eaten their share of feijoada, had a caipirinha and some pie. It's about 12:30AM, so it's time to leave.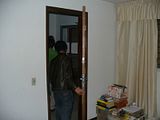 Everyone going out the door to go home and study, sleep, whatever it is they do. It's time for us to clean up all this mess.
Well, that was the night. Not too many peepz showed up but it was enough since we only have four chairs. It was a good night and I'm glad we planned it out.
Peace out and I'm glad all you peepz stopped by to check out my blog.
Peace in the Middle East.